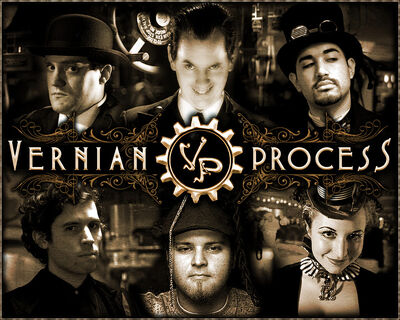 Vernian Process is an Avant-Garde band formed in San Francisco in 2003. Taking its name from the works of 19th century author Jules Verne, Vernian Process is a band that creates music themed around Victorian scientific romance and its modern counterpart steampunk. Their sound is a fusion of modern and old-world styles including darkwave, progressive rock, neoclassical, trip-hop, ragtime, and other related genres. The band currently consists of vocalist Joshua A. Pfeiffer, multi-instrumentalist Martin Irigoyen, bassist Janus Zarate, and multi-Instrumentalists Brian Figueroa and Kyle Thomas. The band also featured live and in-studio guests.
Pfeiffer began working on music under the name Vernian Process in the winter of 2003. He released a number of downloadable albums over the next 4 years, including 2004's Discovery and 2006's The Forgotten Age, before being approached by Irigoyen about joining the project to work on Behold the Machine. From that point forward, Vernian Process evolved beyond a solo project. Throughout 2009, as work on the album progressed, Vernian Process sought out additional members in order to play shows to support the upcoming release of Behold the Machine, as well as record new material for future albums. Zarate joined in 2009, followed by Fargo, Figueroa, and Thomas in the latter half of 2009 and early 2010.
Behold the Machine was released on October 1, 2010.
On November 11, 2010, they announced that their next album would be titled The Consequences Of Time Travel.
In February 2014, The J. Paul Getty Museum in Los Angeles, California launched a video they created with Vernian Process to promote their Victorian photography exhibition.
Vernian Process has appeared in articles from a variety of media, including the UK publication Bizarre Magazine, and MTV during their coverage of the Steampunk genre.
Band members
Edit
Live appearances
Edit
Live, Vernian Process is often joined by Cellist Erica Mulkey of Unwoman.
Vernian Process has appeared at events performing with Attrition [3], Skinny Puppy, Front Line Assembly, and Faith and the Muse, Ravenwood Festival in Arkansas, and the Eccentrik Music Festival in Chapel Hill, North Carolina in 2008. In 2009 they appeared at a number of festivals, notably Steamcon in Seattle, Washington (alongside Abney Park), Eccentrik Festival in Chapel Hill, North Carolina, and The Endless Night Festival in New Orleans, Louisiana.
Other projects
Edit
Gilded Age Records
Edit
In 2008 Joshua and Evelyn Kriete founded the musical collective 'Gilded Age Records' to release all future Vernian Process material under. As of October 2010, over fifty other 19th Century influenced bands and solo artists have also joined the collective.
Freelance Work
Edit
As of 2008, Joshua, Martin, and Allison Curval have begun working together on the musical score for the steampunk themed videogame; "Shades of Violet: Song of the Clockwork Princess" for Imagineer Games.[4]
Discography
Edit
Discovery (2004)
The Forgotten Age (2006)
Behold the Machine (2010)
The Consequences of Time Travel (Volume I: Clotho) (2019)
The Consequences of Time Travel (Volume II: Atropos) (TBA)
Steam Age Symphony (2003)
Revolution (2005)
Compilations
Edit
Catching Up With Vernian Process (2006)
Catalysts (2006) - A Collection of cover versions
External links
Edit
Community content is available under
CC-BY-SA
unless otherwise noted.