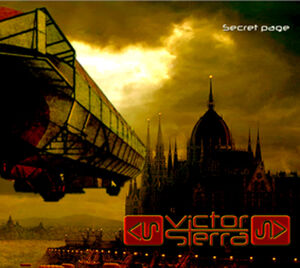 "Their performance leads the audience into a world that could have been..."
Victor Sierra is a Paris-based steampunk band "born between two centuries". The name may refer to the code aviators use to communicate between themselves.
Their music can be defined as a junction of several varieties of music. They were inspired by steampunk, dieselpunk and retro-futurism trends (mostly represented by bands such as Vernian Process, Clockwork Dolls and solo artists as Veronique Chevalier), long before they were familiar with the steampunk subculture. They have performed on many stages in France and abroad.
Victor Sierra was, for a while marginally involved in techno music. Some years ago one of the most prominent techno booking organizations, Technopol, labeled them, "transversal". They have been part TechnoParade and other electronic music festivals. Victor Sierra eventually came to feel that they were limited by the techno world and chose a more "transversal" and "uchronial" feel.
At this time, Victor Sierra takes advantage of every experience mixing a powerful electronic rhythm section with traditional instruments and sounds of various origins. On stage, their equipment is decorated to create some kind of Nautilus/Airship ambiance. They use video extensively and different types of objects to go beyond the simple band on stage appearance. Their songs are written in English, French, Spanish with some other languages, including Yiddish.
Victor Sierra is honored to be referenced among Gilded Age Records (created and directed by Josh Pfeiffer from Vernian Process) and Sepiachord bands.
Band members
Edit
The Legendary Converted Princess - vocals.
Commander Bob - guitars, mandola, saz, harmonica, clarinet, bass, composer.
Big Machine - machines, synths and computers.
Solo careers
Edit
Anouk Adrien is a comedian and a voice talent; she works for french radio and TV channels and all over the world. She also sang with Tuxedo moon and starred in Fuck your dreams by Patrick De Geetere.
Bob Eisenstein started a sporadic solo career as "Arkadin" exclusively using machines and continues to present new work on stage from time to time. He has released three singles: "The Orson Song", "Drink", and "Selfish Network".
Big Machine runs a solo career too as: "Interface Machine".
Discography
Edit
The X-mas Case (Single)
Yesterday's Tomorrow (LP)
"Panic in the Gondola" (Single)
"Electric Rain" (LP)
"Secret Page" (EP)
External links
Edit
Community content is available under
CC-BY-SA
unless otherwise noted.