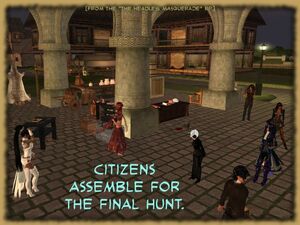 In computing, an avatar is the graphical representation of the user or the user's alter ego or character. It may take either a three-dimensional form, as in games or virtual worlds, or a two-dimensional form as an icon in Internet forums and other online communities. It can also refer to a text construct found on early systems such as MUDs (Multi-User Dungeon/Domain). It is an object representing the user. The term "avatar" can also refer to the personality connected with the screen name, or handle, of an Internet user.
Avatars in Second Life
A resident's visual representation in Second Life is through a 3D avatar. Avatars in SL can be uniquely customized to an extreme degree through use of built-in sliders and/or objects that are created in SL and attached.

Avatars may take any form users choose (human, animal, vegetable, mineral, or a combination thereof) or residents may choose to resemble themselves as they are in real life, or they may choose even more abstract forms, given that almost every aspect of an avatar is fully customizable.

Avatars can communicate via local chat, group chat, global instant messaging (known as IM), and voice. Chatting is used for localized public conversations between two or more avatars, and is visible to any avatar within a given distance. IMs are used for private conversations, either between two avatars, or among the members of a group, or even between objects and avatars. Unlike chatting, IM communication does not depend on the participants being within a certain distance of each other.
Forum Avatars
Despite the widespread use of avatars, it is unknown which Internet forums were the first to use them; the earliest forums did not include avatars as a default feature, and they were included in unofficial "hacks" before eventually being made standard. Avatars on Internet forums serve the purpose of representing users and their actions, personalizing their contributions to the forum, and may represent different parts of their persona, beliefs, interests or social status in the forum.

The traditional avatar system used on most Internet forums is a small (80x80 to 100x100 pixels, for example) square-shaped area close to the user's forum post, where the avatar is placed in order for other users to easily identify who has written the post without having to read their username. Some forums allow the user to upload an avatar image that may have been designed by the user or acquired from elsewhere. Other forums allow the user to select an avatar from a preset list or use an auto-discovery algorithm to extract one from the user's homepage. Some avatars are animated, consisting of a sequence of multiple images played repeatedly. In such animated avatars, the number of images as well as the time in which they are replayed vary considerably.
External links