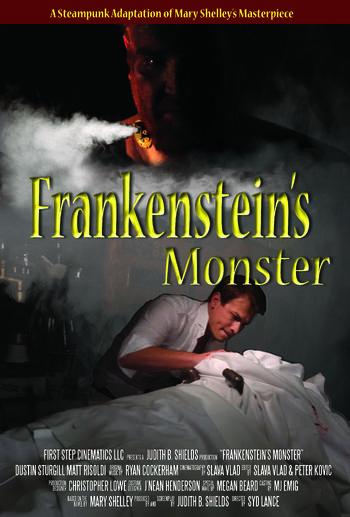 Frankenstein's Monster: a steampunk film is steampunk film adaptation of Mary Shelley's masterpiece. In his obsession over Prometheus' flame, Victor Frankenstein abandons those he loves to create a living being. Leaving behind his abominable work, Victor hopes to escape judgment and return to a peaceful life. He soon discovers all secrets have their price.[1]
Drama.
86 minutes.
Co-Starring: Matt Risoldi (Monster) & Dustin Sturgill (Victor Frankenstein) Both were co-nominated for C-47 Best Actor 2013.
Writer/Producer: Judith B. Shields
First Step Cinematics LLC[2]
Editors: Peter Kovic and Slava Vlad
Cinematography: Slava Vlad
Original Score: Ryan Cockerham, additional music by Peter Kovic
Production
[
]
With a production budget size the cost of a small motorcycle, this 86 minute film was shot in 14 days. The film was created with DSLR cameras with manual focus at  24 frames per second. 12 Texas historical locations were captured in this film. Filmed in the Houston-Galveston area.
A visual concept of the film was what if Frankenstein's Monster had been animated by steam? The laboratory was inspired by Edwardian technology and apothecaries. Brown, gold, burgundy tones along with a gradient around the edges of the film made its flashbacks look like an old photograph. Steampunk props were designed by local Steampunk artisans (Margaret Hubbard and Preacher's Powderworks and Projectiles). Many of the actors included were Shakespearean trained. The Edwardian costumes were supplied by "The Victorian Lady".[4]
A drama with a touch of the morbid: sheets from an actual mortuary were used in the production. The tree where a character is hanged is an actual "Hanging Tree" where criminals in Texas would be executed.
Reception
[
]
Critics have commented on its variation on Mary Shelley's classic, story, original score, performance, cinematography, steampunk, and editing for its budget-size. [5][6][7][8][9][10][11] [12]What is unique about this film is that it's a drama instead of horror, slasher or gore. It takes the viewer back to Mary Shelly's roots.
From Mood Sedai with Land of the Nerds:
"Essentially, Frankenstein's Monster is a retelling of Mary Wollstonecraft Shelly's 1818 classic novel,Frankenstein, set in a steam-punk world. Instead of electricity and lightning, Victor Frankenstein uses the power of steam to bring his creature to life. The film does an excellent job of remaining true to the story while incorporating the steampunk elements without being "too steampunky."[13]
This microbudget film has been "screened at over 30 film festivals, science fiction and steampunk conventions across the U.S.A., Canada, and the UK." Winner of Shockerfest Audience Pick for Science Fiction films.
External Links
[
]
References
[
]
Gallery
[
]