Jurassic World: Dominion Dominates Fandom Wikis - The Loop
Play Sound
Ghostfire is a London/Granada-based Steampunk band. Reformed in 2021, their style of music contains elements of folk, spaghetti western, sea shanty and Americana.
2021
The legendary ship Ghostfire is back in the water; newly careened, watertight and running before the wind. Skirmish, revelry and adventure await on the high seas.
On board, a captain's feast of songs are being readied; nautically themed tales of sea dogs, smugglers, wreckers, pressers and pirates. Plus a few shanties and drunken singalongs. On the darker side of the penny, curses, ghost ships and vengeful sea gods are waiting.
Fasten your shutters as the fog rolls in, pull a chair up to the fire, pour a mug of grog and prepare to be transported.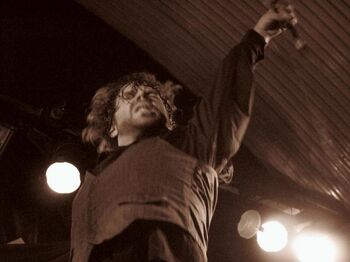 History
[
]
Ghostfire formed in 2007 and released their first demo, Drunk Lullabies in 2008.
Through energetic live performances around London, they gained attention and cultivated interest from the steampunk scene. In 2009 they were invited to headline the first Asylum Steampunk Festival in Lincoln. In anticipation of this they renamed one of their songs. Originally called 'Calibernus', the song discusses the sword Excalibur, which features in the legends of King Arthur. To honour attending steampunks it was re-christened The Last Steampunk Waltz. The Waltz was a hit, steampunks got up and waltzed and the rest is history.
In the following years there were further releases, gigs and lineup changes. They played with steampunk acts Abney Park, Voltaire and The Men That Will Not Be Blamed For Nothing amongst many others. Ghostfire retired from public life in 2015.
In 2021, original members Steven Sheridan (vocals), Andii Valo (guitar) and Alan Mogg (drums) reconnected during the long winter lockdown. Finding the passion, fire and energy still there, they decided to reform the band. Advances in digital recording technology and the internet meant songs could be written, recorded and released remotely, with no lockdown rules being breached. Many songs were produced and Ghostfire have so far released three singles in 2021: Five Points West of Hell, Neptune's Call and Dead Jack. The band's Christmas offering, The Feast of Yule is released on 27th December.

Discography

2008 - Drunk Lullabies (demo)
Vaudevillian (official video)
Masters Of The Sea (unofficial video)
Ghostways Of Paris
Barrio

2010 - The Last Steampunk Waltz (single)
The Last Steampunk Waltz (official video)
Hand Of Glory

2011 - The Tyburn Jig And Other Popular Dances (LP)
Smoke & Mirrors
Dance Of Fate
Vaudevillain (re-recorded)
The Confession
Book Of Dust
Creepshow
The Man (official video 2008 version)
Masters Of The Sea (re-recorded)
Drinkski Song
The Styx

2013 - Skeleton Coast (EP)
Fire In The Hole (Feat. Nathaniel Johnstone)
Nothing Right Here
Servants (Feat. Nathaniel Johnstone)
Griminsky's Soul (Feat. Nathaniel Johnstone)

2021 - Singles
Five Points West of Hell (Official Video)
Neptune's Call (Offiical Video)
Dead Jack (Video)
The Feast of Yule

Other projects
Andii Valo, Johnny Mindlin and Huw Pryce formed steamwestern outfit, The Yuma Territorial Prison Band. They played a few open mics in 2017.
Alan Mogg and Winston Detliev formed Violent Sky. Alan is currently drumming with The Deep.
Steven Sheridan writes and records his own solo projects and makes videos for them.
Gary Emmins formed The Filthy Spectacula.
Links
[
]