"Personally, I think Victorian fantasies are going to be the next big thing, as long as we can come up with a fitting collective term for Powers, Blaylock and myself. Something based on the appropriate technology of the era; like "steampunks", perhaps..." Edit
-K.W. Jeter[1]
The term
Steampunk
was first coined in 1987 by
K. W. Jeter
, the author of the novel
Morlock Night
. He used the term to describe a genre of speculative fiction in which steam, not electricity, drove technological advancements. Since then it has been used to describe an artistic and cultural movement. Authors such as
Tim Powers
,
James Blaylock
,
William Gibson
, and
Bruce Sterling
have hav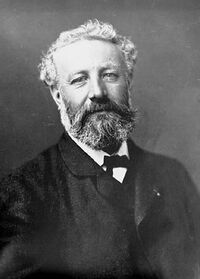 e created worlds inspired by the
Victorian Era
, giving rise to the modern conception of "steampunk". These authors were heavily influenced by nineteenth century writers
H. G. Wells
and
Jules Verne
, who are often considered the forefathers of steampunk.
[2]
The pen & paper role-playing game (RPG) Space: 1889 is widely recognized as the first true "steampunk" RPG since its introduction in 1988, dealing with Victorian era people discovering a means of interplanetary travel.
Precursors
Edit
The term "steampunk" was not coined until 1987 and any works to that time are considered precursors to the genre.
Contributors
Edit
Cite error: <ref> tags exist, but no <references/> tag was found