Jurassic World: Dominion Dominates Fandom Wikis - The Loop
Play Sound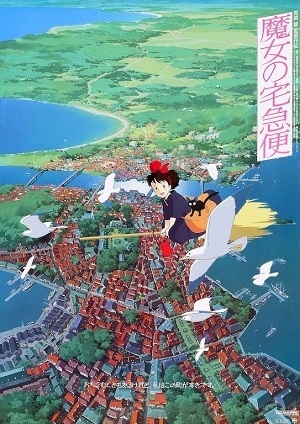 Kiki's Delivery Service (魔女の宅急便 Majo no Takkyūbin, translated Witch's Delivery Service) is a 1989 Japanese animated fantasy film, written, produced and directed by Hayao Miyazaki. It is based on the Eponymous 1985 novel by Eiko Kadono. The film tells the story of a young witch, Kiki, as she spends a year in a town on her own, using her flying ability to earn a living.
Plot
[
]
13-year-old Kiki leaves home to train as a witch with her best friend Jiji, a talking black cat. She flies on her broomstick to the port city of Koriko. While trying to find somewhere to live, Kiki is pursued by Tombo, a geeky boy obsessed with aviation who admires her flying ability.
In exchange for accommodation, Kiki accepts a job from Osono, a kindly bakery owner, making deliveries by broomstick. Her first delivery goes badly; she is caught in a powerful gust of wind and loses the black cat toy she is to deliver. At the delivery location, Jiji pretends to be the toy until Kiki can retrieve the real item. She finds it in the home of young painter, Ursula, who repairs the toy and returns it to Kiki so she can make the delivery and rescue Jiji.
Kiki accepts a party invitation from Tombo, but is delayed by her work and, exhausted, falls ill. When she recovers, Osano gives her a new delivery. Kiki finds Tombo waiting for her; Osano tricked Kiki into taking the delivery to him in person. Kiki apologies for missing the party. Tombo shows her a flying bicycle of his own invention and they take it for a test ride. Kiki warms to Tombo, but dislikes his extroverted friends and walks home.
Kiki becomes depressed. She discovers she can no longer understand Jiji, who has befriended a pretty white cat, Lily; she has also lost her flying ability, and breaks her broomstick trying to fly, forcing her to suspend her delivery business. Kiki gets a surprise visit from Ursula, who determines that Kiki's crisis is a form of artist's block; if Kiki can find a new purpose, she will be able to reclaim her powers.
While Kiki is visiting a customer, she witnesses an airship accident on television. A strong gust leaves Tombo hanging in mid-air. Kiki borrows a broom and manages to rescue him. She regains her confidence and resumes her delivery service. Her parents receive a letter saying that she and Jiji are happy.
Steampunk Influences
[
]
The world on Kiki's Delivery Service is quite idyllic, with an Edwardian Era feel to it, though technology has advanced to the point where portable radios and primitive television systems exist. Rigid-frame Airships are prevalent, along with relatively primitive biplanes, with human-powered flying bicycles built in garages, placing the world in between steampunk's Neo-Victorian idealism and Dieselpunk's lower range of technology, combined with the rare gift of magic wielded by a select few witches.
Cast
[
]
| Character | Japanese | English (Streamline version) | English (Disney version) |
| --- | --- | --- | --- |
| Kiki | Minami Takayama | Lisa Michelson | Kirsten Dunst |
| Jiji | Rei Sakuma | Kerrigan Mahan | Phil Hartman |
| Osono | Keiko Toda | Alexandra Kenworthy | Tress MacNeille |
| Ursula | Minami Takayama | Edie Mirman | Janeane Garofalo |
| Tombo | Kappei Yamaguchi | Eddie Frierson | Matthew Lawrence |
| Fukuo (The Baker) | Kōichi Yamadera | Greg Snegoff | Brad Garrett |
| Kokiri (Kiki's mother) | Mieko Nobusawa | Barbara Goodson | Kath Soucie |
| Okino (Kiki's father) | Kōichi Miura | John Dantona | Jeff Bennett |
| Madame | Haruko Katō | Melanie MacQueen | Debbie Reynolds |
| Barsa | Hiroko Seki | Edie Mirman | Edie McClurg |
| Senior Witch | Yūko Kobayashi | Wendee Lee | Debi Derryberry |
| Ket | Yuriko Fuchizaki | Lara Cody | Pamela Adlon |
| Ket's mother | Mika Doi | Diane Michelle | Julia Fletcher |
| Jeff | ? | ? | Pat Fraley (uncredited) |
| Lily | ? | ? | Kirsten Dunst (uncredited) |
| Crows | ? | ? | Frank Welker (uncredited) |
Gallery
[
]
External links
[
]