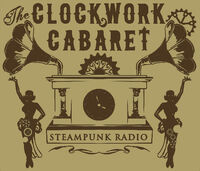 Steampunk music is a genre with a loosely defined sound, but can be described as "eclectic". Common influences include gothic, industrial, synth-pop, dark wave, and new wave, but there are also hints of orchestral, ragtime, cabaret, Indian, gypsy, folk, and traditional klezmer music [1]
The most important aspect of steampunk music, and perhaps what gives it its label, are the stageshows; bands often mod their equipment to resemble Victorian and Neo-Victorian steampunk equivalents. The band members themselves don period costumes with steampunk accessories.
The instruments used by the performers, while sometimes consisting of the traditional guitar/keyboard/drums trio, is just as eclectic as the sound. Steampunk musicians will often play exotic or unusual instruments, including the cello, accordion, bagpipe, and balalaika.
See Also
[
]
External Links
[
]
The Clockwork Cabaret A weekly podcast based in the Raleigh, NC area featuring steampunk music.
Steampunk Music.com Coverage of the steampunk music world, through interviews, articles, reviews, etc.
Sepiachord Explores the strange musical underground where contemporary artists take pre-modern sonic elements  and use them to create innovative new music.
References
[
]