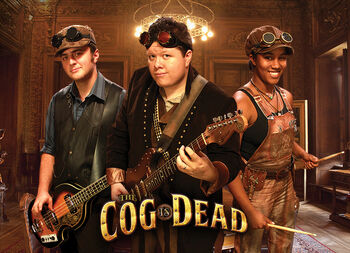 The Cog is Dead is a Steampunk band from DeLand, Florida that plays story-driven steampunk songs in a variety of musical styles from various eras.
Band Members
[
]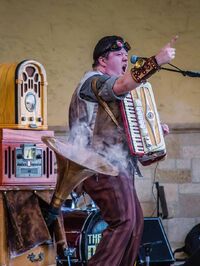 Captain John Sprocket (John Mondelli) - Lead Vocals, Guitar, Keyboard, Ukulele, Banjo, Accordion and Kazoo
Bradley Harington III (Bradley Whalen) - Bass, Backing Vocals and Dialogue
Renate Goodwin (Renate Eights) - Drums
History
[
]
The Cog is Dead was formed in late 2006 by John Mondelli. They decided on the name "The Cog is Dead" after randomly reading those words from a page of the Tom Stoppard play, "The Real Thing." Around the same time they decided on the name, the band members became immensely fond of the aesthetic of steampunk. John had seen a steampunk guitar online and fell in love with it, and decided he had to make one of his own. It was shortly thereafter that they decided to apply the steampunk element to the entire band.
At the time of formation, the only other steampunk band they knew of was Abney Park. However, very shortly after forming the band, there was an immense explosion of steampunk culture in the mainstream and the birth of several other steampunk bands.  It was during the first four years of the bands formation that they wrote and finally released their first album "Steam Powered Stories" in 2010.  This album included the original lineup of studio musicians John Sprocket, Tony Seville, Christofer Wolfe and Joel the Navigator.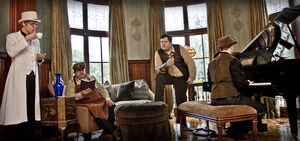 Initially intending to be solely a studio band the recorded and released music online, The Cog is Dead gained all of their early exposure solely through social media sites such as MySpace.  This allowed them to gain an audience and fan base despite the fact that their schedules never allowed for them to perform or tour.  In fact, their first concert wasn't until six years after the initial formation of the band.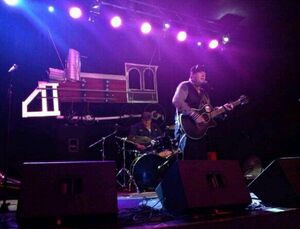 Although they had a few offers to play gigs once their album was released, they turned them down since they were unable to perform with the full band.  Finally in 2012 they were invited to open for legendary steampunk band Abney Park, and they decided to go for it as an acoustic duo with John on guitar and vocals and Tony on drums.  The band continued to perform as a duo from April 2012 until January 2014, during which time they released their second album "Full Steam Ahead!" still featuring Chris on bass for the album.  During this time guitarist Joel had moved on to pursue other musical projects.
In January of 2014 they were joined by bassist Bradley Harrington III.  As the band began to book shows more regularly and traveling more Renate Goodwin came in as the band's new drummer after Tony's retirement.  Renate made her debut at the 2014 Steampunk World's Fair in Piscataway, New Jersey.  The band has continued as a trio with this lineup since May 2014 and are recording a third album with hopes to release it in early 2015.
Fictional Backstory
[
]
The members of The Cog is Dead are time travelers from the year 1893. John Sprocket, a clockmaker in Grimsby, England was shocked and disgusted when a rival clockmaker invented an electric digital clock, thus marking the death of the cog. Mr. Sprocket called on his mechanic friend to build a time machine.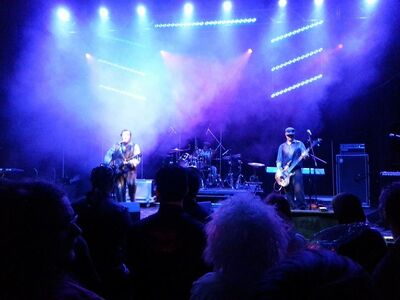 With the help of airship mechanic Renate Goodwin they built a flying timeship. Along during the voyage they heard a noise coming from a barrel and discovered a stowaway, Bradley Harrington III, had hitched a ride on board. Rather than throw him overboard, they decided that if he was coming along for the ride that he should be put to work.  He became their temporal navigator and helped them to travel one hundred years into the future.
When they saw that not only were digital clocks extremely prevalent in the world but electricity had become the main source of power, they decided to make it their mission to travel all around the world to various points of time to try to encourage people to stop using digital clocks and switch over the the most beautiful source of energy that has ever existed, steam power. They now travel the world spreading their message for all to hear and performing mechanical melodies and steam powered songs to the masses.
Musical Genres
[
]
The Cog is Dead classify their music as "steampunk" mainly based on the fact that the lyrics of many of their songs have steampunk themes. However, as time-travelers they have been inspired by several kinds of music from many different eras. They primarily consider themselves a rock band, with eclectic styles ranging from Russian Folk Music, Rock n' Roll, Ragtime, Punk Rock, Reggae, Showtunes and Movie Scores to name a few. Though the musical styles may vary, they strive to keep a unified feeling of energy, beauty, and fun throughout all of their songs.
The Music
[
]
Full Steam Ahead (Release date: May 2013)
[
]
Prepare for Adventure

The Iron Horseman

The Toy Soldier

Burn it Down

Darla Dawn the Automaton

Danger on the Dance Floor

Saviour of the Skies

The Ballad of Steward the Sailor

The Metal Boy

Sorrow on the Rails

Dr. Franklyn

The Voyage Home

Prepare for Adventure Reprise
External Links
[
]
Recent Twitter Updates
[
]
The Band's official twitter stream: <twitteruser username="thecogisdead" limit="3"></twitteruser>