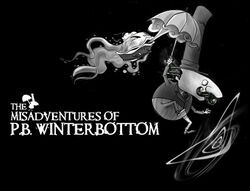 From Wikipedia:
"The Misadventures of P.B. Winterbottom is a puzzle platform game. The player controls the titular character, P.B. Winterbottom, in an attempt to gather pies. Winterbottom has the ability to manipulate time and replicate himself into multiple clones. The player may record an action and a clone will repeat that action, serving as a platform, pie-fetcher, or other puzzle-solving device."
"The game is visually presented in a manner reminiscent of a silent film, reminiscent of art nouveau or films from the late 1800s/early 1900s. As such there is no spoken dialogue, as all speech is instead shown through title cards in between stages. The game is also shown in mostly black-and-white and features a score primarily composed of piano-centric arrangements bearing a style similar to those of silent-era films."
Community content is available under
CC-BY-SA
unless otherwise noted.